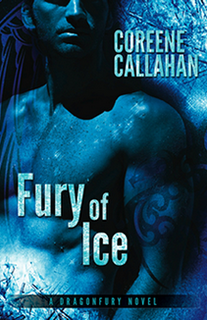 Title:
Fury of Ice
Series:
Dragonfury
#2
Author:
Coreene Callahan
Genre:
Science Fiction & Fantasy Romance
Source:
Amazon Vine
Publisher:
Montlake Romance
Published:
June 5, 2012
Rating
:

Received this ARC from Amazon Vine.
If you read the first installment, Fury of Fire, then you are already familiar with the characters; if not you really should check it out. This book picks up immediately following Fury of Fire. This review contains spoilers for Fury of Fire. I don't want to spoil anything for those who haven't read it yet, but WoW~~~~.
This is a primal example of a paranormal romance.
Coreene Callahan has created a group of characters and fine-tuned their individual personalities so well that you experience their emotions as your own. The struggles, the heartbreak, everything is so very well written that each event drags you fully into the experience. I read this entire book in a single day; couldn't put it down. I am glad the next installment, Fury of Seduction, is coming soon.
Rikar is the last of his kind; a frost dragon shifter, an all-male race born of human females. As 2nd in command of the Nightfury dragon clan it is his duty to protect humankind. Just great he seemed to be following in Bastian's footsteps. He had only met the female once…and now he felt the bond between them; it is ~~ Undeniable ~~ Powerful ~~ Addictive.
When, his female, Angela Keene, a homicide detective, is kidnapped by the enemy he will do anything to save her.
VIDEO INTERVIEW: COREENE CALLAHAN
BY RT BOOK REVIEWS, JULY 24, 2012 |