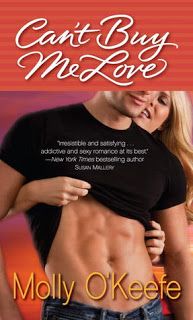 Title:
Can't Buy Me Love
Series:
Crooked Creek Ranch #1
Author:
Molly O'Keefe
Genre:
Contemporary Romance
Source:
Amazon Vine
Publisher:
Random House, Inc.
Published:
July 31, 2012
Rating
:

Received this ARC from Amazon Vine.
When reading the synopsis I wasn't sure that I would be able to get into the story. However, I like to try new authors, and I was impressed with this initial installment. There is several storylines going on simultaneously – this can often be overwhelming ~ especially with the introduction ~ Molly, the author, handled this perfectly. The introduction of the characters blended seamlessly into the flow of the story.
Without going into details, all of the characters are damaged/flawed but redeemable ~ even though there were times when wondered how the author was going to pull a HEA out of this disaster of a family.