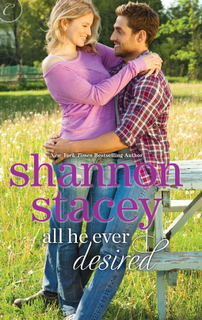 Title:
All He Ever Desired
Series:
The Kowalski Family #5
Author:
Shannon Stacey
Genre:
Contemporary Romance
Source:
NetGalley
Publisher:
Carina Press
Published:
November 12, 2012
Rating
:

Once I finally got a chance to start this book, pesky work kept getting in the way, I couldn't put it down. WoW ~ this author really knows how to pull strong emotions out of her characters. I didn't think I was going to survive the tension between Ryan & Lauren. Every book in this series so far has been outstanding; I only hope that more relatives crawl out of the woodwork – cuz' I don't want this series to end. She has created a family of characters that romance fans will love and adore.
I can't wait to see what the author has in store for Josh!
Overview of the character relationships in case you haven't read the other books...
Lauren Carpenter is good friends with Mitch's fiance Paige Sullivan -
All He Ever Needed
, #5
Disclosure: This ebook was provided to me free of charge through NetGalley or the sole purpose of an honest review. All thoughts, comments, and ratings are my own.