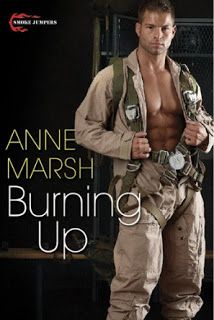 Title:
Burning Up
Series:
Smoker Jumpers #1
Author:
Anne Marsh
Genre:
Contemporary Romance
Source:
NetGalley
Publisher:
Kensington Books
Published:
October 30th 2012
Rating
:

A very explosive story!
This story quickly caught my attention and took off at a sprint. It is the first in a new series about smoke-jumper firefighters. If the rest are even half as good as this one, then Ms. Marsh has a winning series on her hands. Well written, intense, and full of suspense, this story was on FIRE (pun intended).
I'm not sure which I enjoyed most the romance, action or suspense. I found myself racing through the book trying to discover the stalker/serial arsonist was. The story was seriously intense up all the way through - I thought this was a fantastic read.
This is the third series by this author I have read & enjoyed! I look forward to MANY more books written by her! She seems to have a series for everyone (A) Fallen, for her Paranormal readers; (B) Dawson Brothers, for her western readers, & this one for her suspense readers.
Disclosure: This ebook was provided to me free of charge through NetGalley or the sole purpose of an honest review. All thoughts, comments, and ratings are my own.