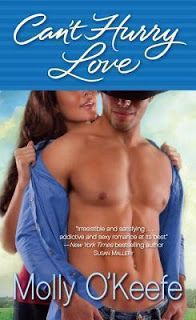 Title:
Can't Hurry Love
Series:
Crooked Creek Ranch #2
Author:
Molly O'Keefe
Genre:
Contemporary Romance
Source:
NetGalley
Publisher:
Random House, Inc.
Published:
July 31, 2012
Rating
:

Sharp dialogue, steamy scenes, and tension that will ensure the reader, me, experiences each emotion alongside the character – and oh boy are there some strong emotions.
Can't Hurry Love is the journey of two adversaries who discover it's possible for two broken individuals to find love. Each has past insecurities that repeatedly interfere with the fragile happiness Eli and Victoria had found, they began to wonder if they can maintain a relationship; let alone trust each other to make a commitment…a must read book for 2012!
Ms. O'Keefe has written a story that entails everything a romance needs to ensure it is both an entertaining and enjoyable read. Even the secondary characters have depth; helping to drive the story forward – we get the story of Madelyn Cornish & Billy Wilkins next.
Disclosure: This ebook was provided to me free of charge through NetGalley or the sole purpose of an honest review. All thoughts, comments, and ratings are my own.