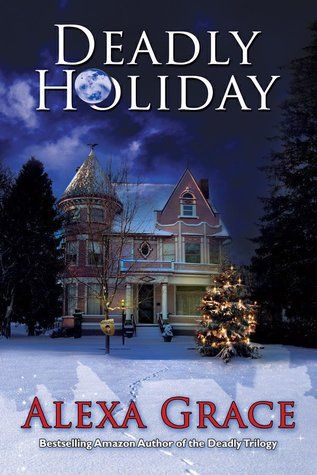 Title:
Deadly Holiday
Series:
Deadly Trilogy #3.5
Author:
Alexa Grace
Genre:
Suspense Romance
Source:
Amazon; Digital
Published:
November 12, 2012
Rating
:

I was so excited to discover that the author had decided to do a Holiday Novella; allowing me to reconnect with some of my favorite 2012 characters.
The story is told with an unheard of amount of heart-wrenching emotion. Although short, about 100 pages, she was able to construct a complete storyline jammed-packed with suspense.
Without a doubt this book earned its 5 stars!!!
This is a novella with characters that I worship – so you can read it as a stand-along but, you shouldn't miss getting the full trilogy experience.
~ Series Overview ~
This series puts the reader on full-alert; it is a high-voltage, fraught-with-danger, vicarious experience that is sprinkled with humor and super-charged with breathtaking love... Ms. Grace creates riveting stories that assails the senses and churns your emotions.
Even if you have read ridiculous amounts of suspense books lately and think you have seen all the twists and turns before – give this entire series a read; you are in for a sweet treat!