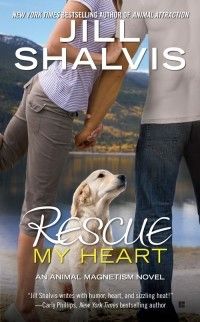 Title:
Rescue My Heart
Series:
Animal Magnetism
#3
Author:
Jill Shalvis
Genre:
Contemporary Romance
Source:
NetGalley
Publisher:
Berkley
Published:
November 6, 2012
Rating
:

Thanks to the publisher, Berkley, and NetGalley for the chance to read this early!
I admit upfront that I am a huge, Jill Shalvis fan…I love her Lucky Harbor series. Then, Lucky me, I discovered this series…I read them out of order – reading Rescue My Heart first, then Animal Magnetism, then Animal Attraction. It didn't bother that they were out of order (each can be read as standalone), but you don't want to miss neither Brady nor Dell's journey.
Ms. Shalvis is well known for her ability to create great characters. As an animal lover I fell in love with Adam, his ability to form a deep-unbreakable bond with all things furry is irresistible. He is struggling to keep his war-borne demons at bay; no longer even an active participate in his own life - he's not about to let anyone see the mess he's become by sharing himself with anyone…especially Holly. However, when Holly comes to him asking for help he can't refuse.
Out of options Holly must ask Adam, the boy who once broke her heart, to help her located her father. Based on her past relationship experiences she is no longer unwilling to depend on any man again. But a few nights alone with Adam in the Bitterroot Mountains is wreak havoc on her resolve to bury long forgotten feelings.
Anyone who enjoys a spicy contemporary romance will definitely enjoy this book.
Disclosure: This ebook was provided to me free of charge through NetGalley for the sole purpose of an honest review. All thoughts, comments, and ratings are my own.