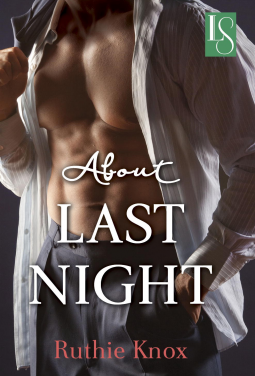 Title:
About Last Night
Author:
Ruthie Knox
Genre:
Contemporary Romance
Source:
NetGalley
Publisher:
Random House Publishing Group
Published:
November 12, 2012
Rating
:

Thanks to the publisher, Random House Publishing Group, and NetGalley for the chance to read this!
This is my first book by this author. From looking at the cover & reading the blurb I was expecting a simple basic romance, but…once in a great while, a book comes along that surprised me. Has book ever surprised you? I've had this one on my TBR shelf for a couple of months. I kept putting off reading it because I wasn't sure what my reaction would be…well that was a stupid idea – My reaction is "Why did I wait so long to read this?"
The author really has created a unique couple. Reformed bad-girl, Cath Talarico, is just trying to do her job until she is blackmailed into the dysfunctional blind date from hell – Can see return to her new strait-laced lifestyle? Then there is Nev (or City) a banker by day and an artist by night. His tenderness toward Cath was overwhelming (in a good way) – but what I enjoyed most about him was that although he is flawed it never affected his ability to anticipate and fulfill Cath's every desire.
If you are on the fence about this opposites attract romance book – pick it up – don't wait like I did…you won't regret reading it.
Disclosure: This ebook was provided to me free of charge through NetGalley for the sole purpose of an honest review. All thoughts, comments, and ratings are my own.