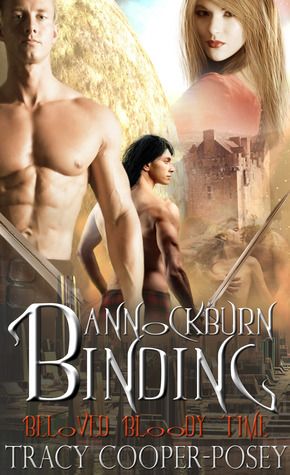 Title:
Bannockburn Binding
Series:
Beloved Bloody Time
, #1
Author:
Tracy Cooper-Posey
Genre:
Paranormal Romance
Source:
Author
Publisher:
Tracy Cooper-Posey
Published:
December 17, 2011
Rating
:

Thanks to the Author for the chance to read this hot futuristic-Scottish-paranormal romance!
First off, I would like to say I really enjoy Tracy Cooper-Posey's writing style. After reading this one, I am definitely interested in reading additional books for her backlist, especially Blood Stone. Who can resist a book with 2 heroes? ~ a sexy man on horseback and a time-traveling, vampire. Not me! The three get tangled in a ménage that is very erotic. The sex scenes are super HOT!
I've just started a new relationship with another awesome author! I'll be keeping my eye out for future releases!
Disclosure: This ebook was provided to me free of charge by the author for the sole purpose of an honest review. All thoughts, comments, and ratings are my own.