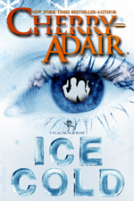 Title:
Ice Cold
Series:
T-FLAC #17
Author:
Cherry Adair
Genre:
Contemporary Romance
Source:
NetGalley
Publisher:
Adair
Published:
October 15, 2012
Rating
:

Thanks to the author, Cherry Adair, and NetGalley for the opportunity to read this early!
Ms. Adair always creates exceptional back stories. She seems to put a lot of thought into her carefully designed characters ensuring the reader receives only the necessary insight into the backgrounds, without overwhelming the reader. Given the personalities of these two characters it seemed that they were an unlikely couple; but leave it to her to make them seem prefect for each other.
Two T-FLAC operatives, Honey and Rafael, must combine their skills to apprehend an international serial bomber determined to destroy the world's financial infrastructure.
Honey Winston, a cybercrimes specialist, prefers to spend her night's at the keyboard hunting down cyber criminals. The best and most satisfying relationship she has ever had was with her computer equipment; it is everything a person is not. Struggling to come to terms with her mentor turning traitor left her questioning, on a fundamental level, who she can trust and if she will ever be able to regain her sense of stability.
Rafael Navarro, a bomb expert, is also dealing with a profound loss, and extreme guilt that have left him closed off emotionally. Prefect example of a true alpha male; known for both his legendary bedroom skills and his dexterity defusing bombs - (panty & bomb whisper). His dangerous life leaves no room for a relationship that last longer than an orgasm.
However, this mission requires an expert with cyber-geek skills, and he only works with the best - with no other choice he forms a partnership with Honey. As they grow reluctantly closer, their romance does not in any way take away from the action or the almost palpable suspense, and the reverse is also true. Authors often overdevelop one aspect while other languish undeveloped. A rarity among this genre, the story is well-balanced with equal parts action, suspense and romance. That is not the case as a seasoned writer she can handle everything from explosions, to passionate love scenes and intensely emotional conversations.
Individuals that have not yet read the T-FLAC series are missing the opportunity to experience an enjoyable series. For those loyal T-FLAC fans, this installment will not disappoint. This is an exceptionally well-written book that has made the wait worth it.
Disclosure: Netgalley provided this e-book free of charge for the sole purpose of an honest review. All thoughts, comments, and ratings are my own.