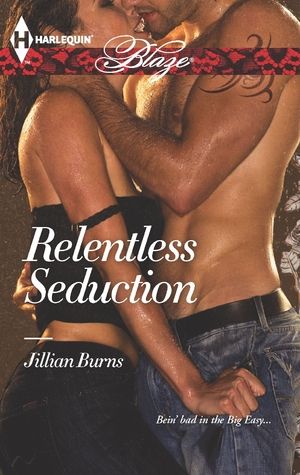 Title:
Relentless Seduction
Author:
Jillian Burns
Genre:
Contemporary Romance
Source:
NetGalley
Publisher:
Harlequin
Published:
December 18, 2012
Rating
:

Thanks to the publisher, Harlequin, and NetGalley for the chance to read this early!
Harlequin Blaze has been putting out some hot stories lately, and this is no exception. This is the first book by this author I've read ~ I plan to check out her backlist; and I except to be adding additional books to my TBR list. Pick this up...it is a quick, fulfilling read.
Claire and her best friend, Julia, take a vacation to New Orleans for Mardi Gras. Then Julia hooks up with some guy and disappears; with only one clue to her last known whereabouts Claire decides to find Julia. Claire, a microbiologist who spent most of her life in a lab, enters Once Bitten and immediately realizes just how much a frumpy science nerd can stand out.
The moment Rafe Moreau saw Claire he knew that she was going to be trouble. As owner of the popular vampire bar, Once Bitten, he is familiar with the dark, seedy underworld of the Big Easy. Determined to get Claire out of his bar before she finds herself in trouble or worst causes him trouble. However, he quickly discovers she is not so easy to manage; he gets blackmailed into helping her find Julia.
Disclosure: Netgalley provided this e-book free of charge for the sole purpose of an honest review. All thoughts, comments, and ratings are my own.