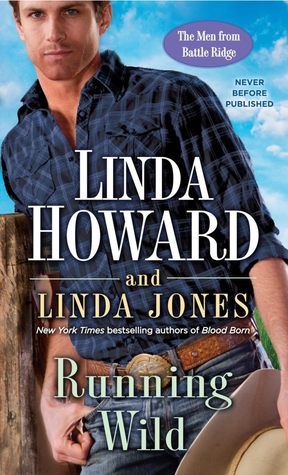 Title:
Running Wild
Series:
Men from Battle Ridge #1
Authors:
Linda Howard
Linda Winstead Jones
Genre:
Contemporary Western Romance
Source:
NetGalley
; Digital
Publisher:
Random House
Published:
November 27, 2012
Rating
:

I really enjoyed this story; the characters are both interesting and entertaining. These two authors have collaborated to create another warm, satisfying and quick read with two appealing lead characters that are just trying to muddle through…with no expectation of a HEA. Battle Ridge, a small town, is the perfect place for Carlin to take a temporary break…earn a little cash. She takes a part-time job at the Pie Hole, the local diner – it is owed by Kat, Zeke's cousin. When Kat suggests that Zeke hire Carlin to replace his housekeeper/cook – he refuses…an attractive woman around a bunch of horny cowboy; it will never work. Also he knows she is hiding something but, he desperately needs to hire someone before his ranch hand revolt…and she needs the money. The two reach an arrangement…but the sexual tension starts to build – these two are awesome together.
Disclosure: This ebook was provided to me free of charge through Netgalley for the sole purpose of an honest review. All thoughts, comments, and ratings are my own.