Welcome Joey Jameson
Joey Jameson is Canadian born and bred, but currently living in Brighton, UK. He can usually be found either on the beach walking his two gorgeous dogs, or sipping swanky cocktails in his local haunt. Ever the fan of all things decadent and naughty, "Candy From Strangers" is his first delve into erotic fiction, but watch out for more titillating and tantalizing stories from Joey in the very near future.

I think I had the title to "Candy from Strangers" in mind before I even wrote the first page. It was just how the idea built itself from the ground up; slowly developing and snow-balling from a mere hobby into an addiction that spiralled out of control and into the novel that you see before you. This is how I write. Ideas are like little seeds in my mind that when given the right amount of attention and nourishment, flourish into beautiful and complicated flowers that smell of my passion and aim to stun the reader into submission with their detail. Writing is power. And it's this power that I crave.
This is my first novel. When writing "Candy", I wanted to go straight for the jugular. I wanted to take my mother's wise warning about 'never talking to strangers', and modify and exploit it for the people of my generation. I wanted to plant a little seed of doubt in the mind of other unsuspecting young men, such as myself; those innocently looking for companionship and love, and force them to think twice about who they invite into their beds. Do we every really truly know the men we meet when looking for love? Do we give trust away too easily? Do we open up our hearts as easily as we unbutton our trousers? And what happens when the ones we thought we knew, turn out to be someone else? Someone darker. Someone dangerous.
I wanted the relationship between Dylan and Darien to be relatable. I wanted the reader to be able to sympathise with both men and see sides of themselves in each of their personalities. Dylan and Darien are polar opposites. Day and night, Yin and Yang, and I created them using both the light and dark sides of myself. Dylan is sweet, caring and hopeful, while Darien is enigmatic, sexy and secretive. What starts out as the perfect relationship, quickly unravels when cracks begin to show in Darien's story, leaving Dylan to question everything he thought he knew. It's this idea of betrayal that we most fear when we give ourselves away. But sometimes even the most powerful passion, stems from something much darker.
I enjoyed exploring different themes in the book; attraction, desire, lust, sex, infatuation, paranoia, delusion. It is these themes that drive the book forward and capture the reader in their grip.
This is a story of obsession and lust that will hook you till the very last page, when the truth comes crashing down and shatters everything you thought was true. A cautionary tale for the 21st Century.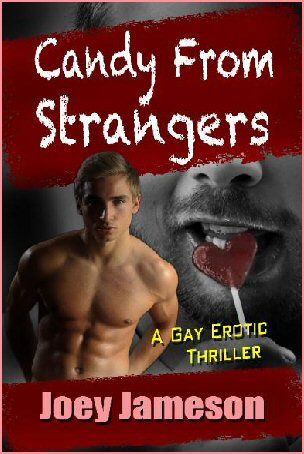 Title:
Candy From Strangers: A Gay Erotic Thriller
Author:
Joey Jameson
Genre:
Erotic GLBT Thriller Romance
Published Date:
November 1, 2012
Publisher:
Chances Press, LLC
Heat Level:
Sizzling
Length:
40,000 words
Dylan, a 20-something English lad who's successful, charming and beautiful, thinks he has everything, until one day his world is turned upside down when hot new neighbor, Darien, moves in across the road. The two begin a steamy affair that leaves Dylan breathless and thinking he may have finally found Mr. Right. But as time passes, cracks start to show in Darien's story forcing Dylan to question everything he thought he knew about this dark stranger.
Candy from Strangers is a lustful tale of romance, intrigue and mystery that poses the question of how well do we ever know the ones we let into our lives.
This is more than just another story about an obsessive lover. There is no typical fatal attraction clichés (i.e. boiling of rabbits or mutilated dogs). The author created a completely original new highly twisted version that will make you remember that appearances and personalities can be deceiving.
Disclosure: This ebook was provided to me free of charge by CBLS Promotions for the sole purpose of an honest review. All thoughts, comments, and ratings are my own.

Prize is 20 eBook copies of "Candy From Strangers" (1 each to 20 winners).
Contest is tour-wide and open internationally.
Must be 18 years of age or older to enter.
Ends January 5th.
a Rafflecopter giveaway
Other Stops on the Tour
Dec 19:
Coffee Beans & Love Scenes
(Promo)
Dec 20:
Literary Writings
(Author Interview)
Dec 21:
Brianna's Bookshelf
(Promo)
Dec 26:
Tempting Reads
(Guest Post/Review)
Dec 27:
Books Amour
(Author Interview)
Dec 27:
Paranormal Book Club
(Guest Post)
Dec 27:
Sweet n' Sassi
(Review)
Dec 28:
Jesse Recommends
(Guest Post)
Dec 28:
Sex Stories and Toys
(Guest Post)
Dec 29:
Words of Wisdom from The Scarf Princess (Guest Post/Review)
Dec 30: Blood, Lust and Erotica (Guest Post)
Dec 30:
Slave's Erotic Reviews
(Review)
Dec 31:
Books Books and More Books
(Guest Post/Review)
Dec 31:
Harlie Williams, Writer
(Guest Post)