Welcome Linda Carroll-Bradd
I'm Lindsay McFerrin, living in surprisingly-civilized Kansas, where we do have cows, but also the likes of Tiffany & Co! I'm a graduate of Notre Dame Law School and spent 25 years as a trial lawyer while raising a family, which left little—I mean no—time for writing. Five years ago, I finally began to put down on paper what I'd been writing in my head!
The day I discovered Still Moments Publishing was a happy day. The concept of anthologies with specific themes was new to me, and I was drawn to SMP's call for stories of romance during the Christmas season. An idea formed: A romance between two dog lovers, sparked by a sweet, giant, lonely dog.
The
true-life
story of my own Giant Alaskan Malamute went into
Harbor Homecoming
. A few years ago, as we toured a home for sale, the realtor warned us not to go into the back yard because of the owners' enormous dog. He was beautiful but scary-looking, so we heeded the warning even though he gazed at us mournfully through the window. The day before we closed on the home, the owners said they'd moved to an apartment and couldn't keep him! The rest is history.
The professional editing process with SMP—my first experience with this—was enlightening and really fun. I learned so much from my editor, Linda Pitts. I was thrilled when I learned she would edit my second story for SMP, an upcoming stand-alone romance book entitled
Aspen Shift
about a sexy, manly shape-shifter!!
Congrats to all the other Christmas Anthology authors! And thanks for the opportunity to talk with you today.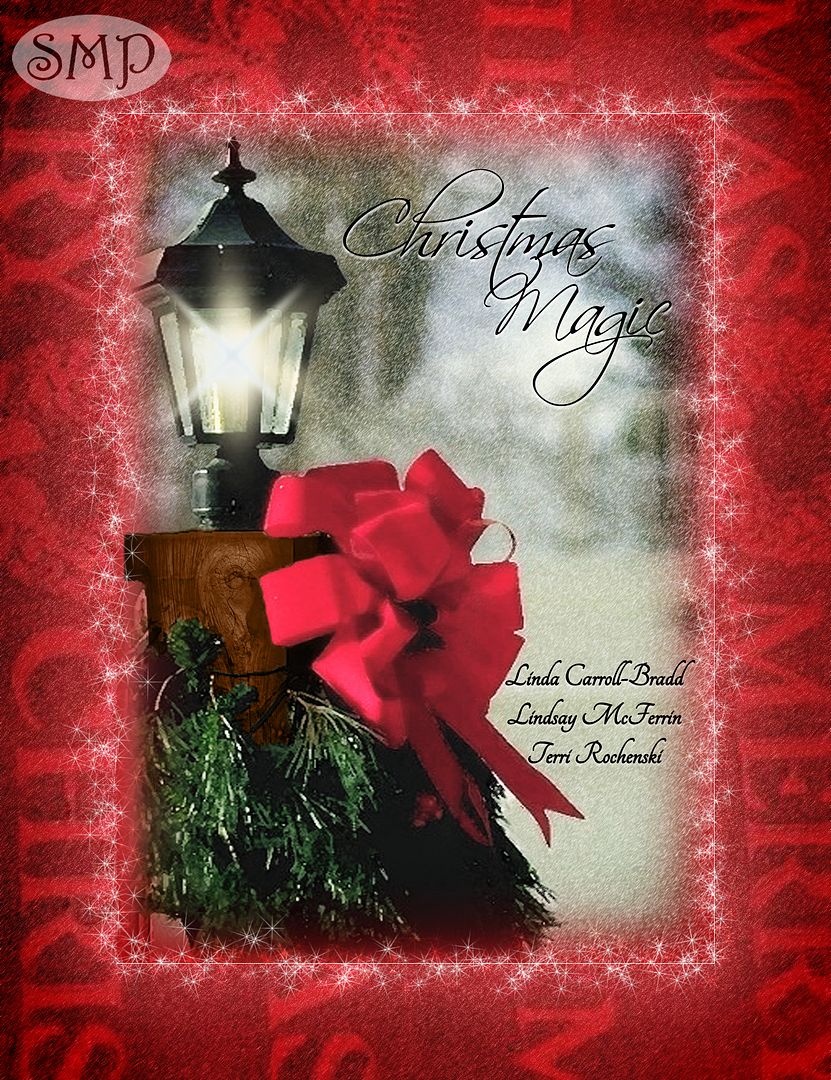 Title:
Christmas Magic Anthology
Authors:
Linda Carroll-Bradd
Lindsay McFerrin
Terri Rochenski
Genre:
Contemporary Romance
Source:
Publisher
Publisher:
Still Moments Publishing
Published:
November 12, 2012







Now is the time when many readers are looking forward to getting in the mood for the holidays by reading romance novels with a Christmas theme. This collection is especially nice...the three lovely holiday stories in this collection are the perfect thing to read at the holidays when things are stressed.

Harbor Homecoming by Lindsay McFerrin

The supporting cast was equally entertaining and fun including the dog! Readers will love the dog in this story, and personally I want a Bear for my very own. Anyone looking for a true holiday love story that shows real emotion this is a pleasant one. He may have come to settle his aunt estate, but he inherited more than just property.
Disclosure: The publisher, Still Moments Publishing, provided this e-book to me free of charge for the sole purpose of an honest review. All thoughts, comments, and ratings are my own.

Fill Out the Rafflecopter Below to Win a Holiday Gift Pack.
Include your email with any/all comments.
a Rafflecopter giveaway