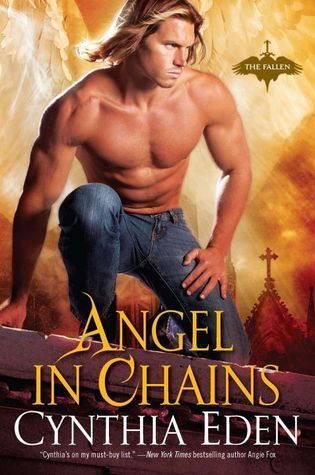 Title:
Angel in Chains
Author:
Cynthia Eden
Genre: Paranormal Romance
Source: Kensington; Print
Publisher: Kensington Publishing Corp
Published: November 27, 2012

|
Amazon
|
Goodreads
|
As a fallen Angel of Death, Azrael is cursed to walk the earth alone in search of redemption. One night, as he wanders the streets of New Orleans, he discovers a woman surrounded by panther shifters. No longer able to contain the anger simmering within, Az summons his dark powers and attacks, determined to protect this innocent human from certain death.Only Jade Pierce is no delicate flower. She's spent years learning to survive and fight the evil forces sent by her ex-lover who refuses to let her go. But after seeing Az in action, she figures she could use a little supernatural help. And so she plans a course of seduction guaranteed to arouse his interest and his angelic passions…
Thanks to the publisher, Kensington Publishing Corp., and NetGalley for the chance to read this!
I've read many books by this author. I typically don't read serial books out of order, but I won this & didn't want to wait to receive books 1 &2 (Yes, I went ahead & ordered them before I read this one).
Angel in Chains is more than just a typical paranormal romance. The author has crafted a unique world where everyone has their own agenda. There is a cast of well-developed supporting characters, included in this book woven into sub-plots but don't overtake the overall storyline --instead keeping the entire read exhilarating and entertaining (i.e Sam & Seline – by the way book 3 will spoil their story – so read book 2 prior to this one).
The plot is riveting and filled with intrigue, betrayals, passion and sexual tension. As a reader I felt instantly connected to Jade (and eventually Azrael grew on me). Jade is a kick-ass heroine, who doesn't need, or want, a man to rescue her – too bad Azrael seems determined to do just that.
I felt torn and wasn't sure how I wanted their HEA to happen – even now a week later & I still think about an alternate ending – not that the ending wasn't great, it was, but…I kinda wish this was one of those "Choose Your Adventure" books from my childhood.
Disclosure: This ebook was provided to me free of charge for the sole purpose of an honest review. All thoughts, comments, and ratings are my own.