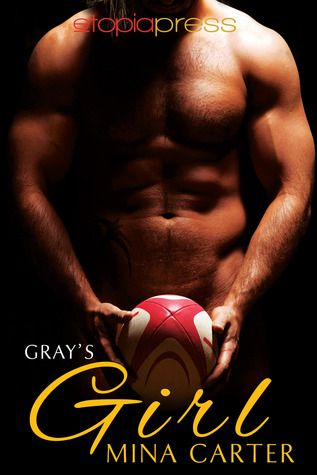 Title: Gray's Girl
Author:
Mina Carter
Genre:
Contemporary Erotic Romance
Editor:
Jennifer Fitzpatrick
Cover Artist:
Mina Carter
Publication Date:
10/12/12

International rugby star Leighton Gray, Big L to his fans, is at the top of his game. Ruthless on the pitch, he's living the dream. Maybe. Lonely, he's looking for someone special to share his success with, but can't stand the vapid women who flock around the team. When his best friend Damon tries to set up a blind date for his sister with one of their teammates, Gray steps in. He had a crush on Damon's sister for years, so if anyone is going to take her out, it's him.

After finding her boyfriend balls deep in the blonde from down the hall, Frankie Cross is done with men. So she's not impressed when her brother tells her that he's set up a blind date with Leighton Gray, the scrawny waif he befriended years ago. But when she sees the giant Adonis standing in her doorway, she changes her mind. Little Leighton's all grown up, and she's having some very adult thoughts about the man he's become…
Warnings: This book contains graphic sexual content that may be offensive to some readers.
This was an interesting new find for me; I discovered both a new author and a new sport (Rugby). I'm an enormous fan of sports romances, and even though there is a large selection out there - I've discovered only 3 or 4 authors that have made my sport romance auto-buy list (You guessed it Mina is one of those). Lucky for me she has an extensive back-list filled with tons of goodies!
I hope to see additional members,
especially
Bryant, of the
Willesdon Wolves
.
If you haven't read this one…grab it…you'll
L.O.V.E.
it!
The publisher, Etopia Press, provided this e-book to me free of charge for the sole purpose of an honest review. All thoughts, comments, and ratings are my own.