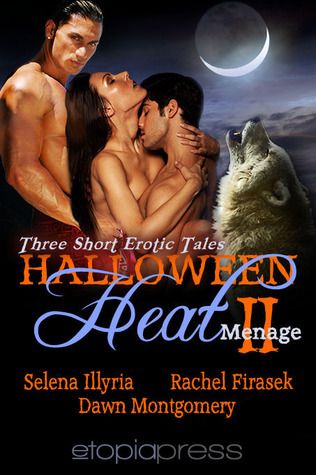 Title:
Halloween Heat II Ménage
Authors:
Rachel Firasek
Selena Illyria
Dawn Montgomery
Genre:
Paranormal Erotic Romance (Ménage)
Source:
Publisher; Etopia Press; Digital
Published:
October 2012

|
Amazon
|
Barnes and Noble
|
Goodreads
|
Three stories of blazing paranormal ménage Hot dragons, sexy wolf shifters, and scorching threesomes to make an unforgettable Halloween night.

Master Me by Rachel Firasek

It's trick or treat when Raina brings her beta in to help her chosen pack leader ease into his role. Changing him had been easy, but learning how to tame his wolf without breaking his spirit will be the test of a true alpha. For a new formed pack, Raina will do almost anything to keep the man she loves happy, even if it means letting go of the only person she's ever trusted and submitting in all ways to her new Master.

Dragons at Samhain by Selena Illyria

Brent is determined to fulfill his mate, Carissa's, fantasy to have sex in a bookstore during business hours; with the help of his best friend Fletch he is going to make this a Samhain celebration she'll never forget.

Witchvine Seduction by Dawn Montgomery

Selena is attacked and drugged by group of weremuts but, Ryan and Paul are able to rescue her before she is gang raped. However, the three soon discover that she was drugged with witchvine – an aphrodisiac.
This collection contained a great mix of 3 erotic paranormal short novellas. I liked each story – I knew going into this book that the authors would not be providing a lot of information. Instead, each tales read like a scene from a full length novel – a teaser - a blip. However, so much goodness was packed into each, considering the overall length that I wasn't left feeling like I needed more…was I wanting more…absolutely.
The publisher, Etopia Press, provided this e-book to me free of charge for the sole purpose of an honest review. All thoughts, comments, and ratings are my own.