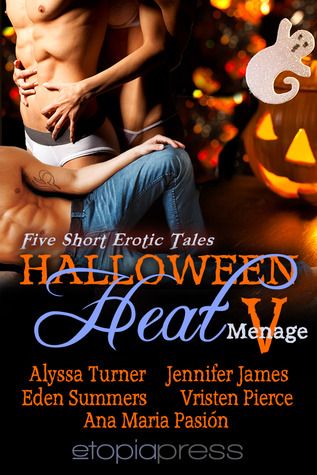 Title:
Halloween Heat V Ménage
Authors:
Alyssa Turner
Ana Maria Pasion
Eden Summers
Jennifer James
Vristen Pierce
Genre:
Paranormal Erotic Romance (Ménage)
Source:
Publisher; Etopia Press; Digital
Published:
October 2012

|
Amazon
|
Barnes and Noble
|
Goodreads
|
Five scorching contemporary erotic tales of ménage love to heat even the coldest Halloween night.

Thrills and Chills by Alyssa Turner

Melanie has plans to attend the Sigma Pi Halloween with her two male friends. Only to discover that Danny & Vincent have other plans… a quick & dirty make out session in the haunted house.

Deployment Gifts by Jennifer James

Krista's want to make sure Craig has some fantasy material to keep him warm during his next deployment. Krista invites her friend (and sometime lover) Jade and together they put on show Craig isn't going to be forgetting anytime soon. Is this a goodbye for now or forever gift?

Phantom Pleasure by Eden Summers

Emma and her husband Tim are looking to fulfill a longtime sexual fantasy; the fantasy – Tim want to watch her with another man. Tonight, during a Halloween party that fantasy becomes reality.

Taking Candy by Vristen Pierce

Candy has plans for the Halloween party & if things go her way she'll be a very satisfied chick. Her plan includes seducing both Brett & Grayson, but she quickly spots another opportunity to take what she wants – sex with a stranger.

Trick or Treat by Ana Maria Pasión

Two friends are out for a little Trick-or-Treating before shipping out to the Marines. The two are caught peeking through a neighbor window…instead of punishment…they get invited inside. They soon find themselves giving in to their curiosities and fulfilling their deepest desires, they let their inhibitions go and allow their teenage fantasies to come to life.
This was a fun, entertaining, collection will five naughty erotic tales. Each story is very short about 15 -20 pages. Each is well written and what a great way to try out new authors! As a whole I felt that this collection had a lot of variety in couplings (MFM, MMF, FF, FFM). This is a great sampler – I got the opportunity to try out 5 new authors.
The publisher, Etopia Press, provided this e-book to me free of charge for the sole purpose of an honest review. All thoughts, comments, and ratings are my own.