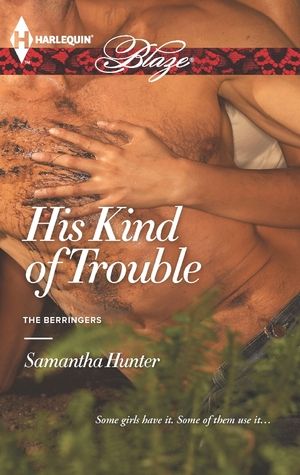 Title:
His Kind of Trouble
Author:
Samantha Hunter
Series:
Berringers
Genre:
Contemporary Romance
Publication Date:
December 18, 2012

Berringer Bodyguards File #3

Name: Chance Berringer

Trademarks: Chance by name…chance by nature!

Biggest weakness: Adventure and beautiful women—especially when combined in one caliente cook!

Danger is bodyguard Chance Berringer's first, last and middle name. Protecting celebrity chef Ana Perez—a hot little firecracker with a mouth to match—for two weeks in Mexico is more vacation than job. Just keep his eyes on her, and his hands off. How hard can it be?

Plenty hard.

Ana doesn't want a babysitter during the holidays. Even if Chance's muscled hotness (complete with wicked grin) makes him a mouthwatering dish…. But when the heat starts sizzling in the bedroom—and beyond—will this hot tamale cause more trouble than Chance can handle?

Some girls have it. Some of them use it…
Thanks to the publisher, Harlequin, and NetGalley for the chance to read this early!
I struggled with this book; mainly because of the heroine – I found my rolling my eyes at her over-the-top dramatized reactions. This is my first book by this author, and the story concept was fantastic (I even plan to order the first 2 - & I am hoping that there is an upcoming story for Luke.)
This book has redeeming qualities – the hero, Chance, but ultimately it was a secondary love story that had me plowing through to the end.
Disclosure: This ebook was provided to me free of charge through NetGalley for the sole purpose of an honest review. All thoughts, comments, and ratings are my own.