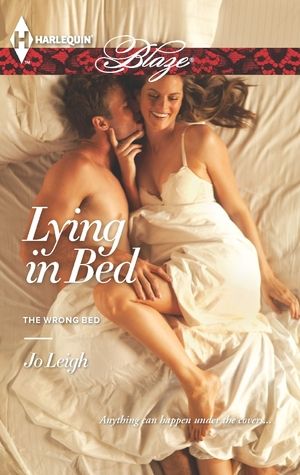 Title:
Lying in Bed
Author:
Jo Leigh
Miniseries:
The Wrong Bed
Genre:
Contemporary Romance
Publication Date:
December 18, 2012
Source:
NetGalley; eBook

Get Intimate: The Workshop Explore sensuality and true intimacy at the luxurious Color Canyon Resort.

Private assignments include sexy "homeplay" and more

The setup was simple. To ferret out a blackmailer, FBI agent Ryan Vail and his partner are going undercover as a couple at an intimacy retreat. But when Ryan wakes to find a replacement "wife" in his bed, he knows he's in big trouble….

FBI agent Angie Wolf is on the job. Sure, there's a wicked attraction between her and Ryan, but they're professionals. Touching, kissing—it's all part of the sting. But the intimacy retreat is doing its job, because each tension-filled night in bed is blurring the line between truth and lie. Now this investigation has turned into one irresistible temptation!
Thanks to the publisher, Harlequin, and NetGalley for the chance to read this early!
I enjoyed this quirky tale about two FBI agents working undercover at an exclusive couple retreat to catch a blackmailer. Ryan Vail and Angie Wolf have been aware of each other for awhile; they even almost kissed once during a Halloween party. Both the sexual tension and emotional intensity fuels the natural progression of their attraction. Witnessing the characters struggle with maintaining a professional relationship while imagining each other naked – was very humorous. The author balances the romance, suspense, and humor perfectly.
Disclosure: This ebook was provided to me free of charge through NetGalley for the sole purpose of an honest review. All thoughts, comments, and ratings are my own.
.