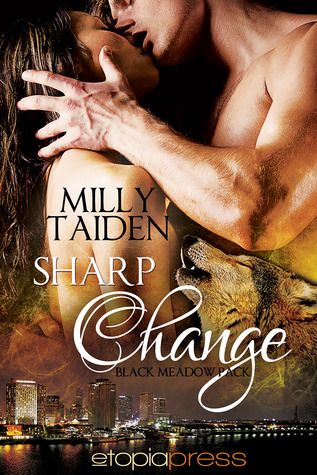 Title:
Sharp Change
Author:
Name: Milly Taiden
Genre:
Erotic Paranormal Romance
Editor:
Melinda Fulton
Cover Artist:
Mina Carter
Publication Date:
September 14, 2012

Only the hottest sex can cool a wolf in heat...

After her sister is bitten by a werewolf, geneticist Sophia Reece begins researching shape-shifters and isolates a gene she calls Furry Beast—FB for short. But in her excitement over her discovery—dancing in the lab is never a good idea—she has a teeny little accident with the samples, one canine, one feline, and winds up landing on the syringes, pointy side up.

Werewolf Chase is head over heels in lust with Sophia. He can't stop thinking about the human's sexy body or how badly he wants to get her naked. But she acts as if he has fleas. So why, all of a sudden, does she stare at him like a wolf in heat? And what smells like cat?

When she experiences her first mating heat, Sophia isn't prepared for the new feelings she's experiencing, and her secret desire for Chase refuses to remain under wraps. For Chase, this is his wildest fantasy come true—to finally get his hands on the curvy, caramel-skinned Latina. But when some serious predators come sniffing around her research, Sophia will have to find out what she's really made of, and Chase will have to decide if he's man—or wolf—enough to make things permanent…
Warnings: This book contains graphic sexual content that may be offensive to some readers.
I was so excited to receive this book and after reading it I am even more excited to share my thoughts about it. For a novella, around 35000+ words, it had more impact and substance than some of the recent full-length novels I've read. This is my first books by this author, but I can't wait to more by her.
Her scenes between Chase & Sophia are both erotic and humorous.
The publisher, Etopia Press, provided this e-book to me free of charge for the sole purpose of an honest review. All thoughts, comments, and ratings are my own.